Hiring a Yurt for your Wedding
Hiring a Yurt for your Wedding
Congratulations you have just got engaged. The first thing you will want to do it sit down and start thinking about what kind of style and feel you would like for your wedding day. A yurt is the perfect structure for any wedding, they are super flexible so can be erected on virtually any landscape or terrain – even slopes. All our yurts are handmade, and they are put together by hand by our brilliant team. There are a few things to consider when hiring a yurt for your wedding but it's super easy to do so and our team are on hand to help.
The Venue
Choosing the perfect venue can be hard, many brides choose to get married in a yurt because they want to have an outdoor wedding. Perhaps you already have a piece of land in mind or maybe you are on the hunt for breathtaking views and beautiful scenery. See our blog "How to Choose the perfect outdoors Venue".
The main consideration when hiring a yurt for your wedding is the ground you are going to put it on and the space available. We will always do a site visit before booking to make sure that the land is suitable and to talk through positioning and any extras you may need or want. If you are pitching the yurt onto grass you will need to consider how well the ground drains, speak to the vendor and check that it is free draining.
Accessibility for suppliers and guests is also necessary. Think about where people can park, and how they will get to the yurt – will you need to mow the grass before hand or lay extra matting. You may need to think about signage to help guests find their way. You will need to think about how supplier's vans can reach the site, so consider the size of gateways, low hanging trees and boggy parts of the site. And also where to put the toilets, generators etc. all these queries can all be talked through during your site visit and then plans can be drawn up after you have secured your booking,
The Yurts
We have lots of different yurt options available for any size of wedding. You can see all the options available on our website or see the blog "meet the yurts" for more information.
Make a rough guest list and decide on the number of people you may want to come to the day and then to the night.
The flexibility of the yurts means you can have different size structures to create different spaces in any configuration for example you may want more than one structure to create different areas – ceremony, dining, bar, chill out room, separate dance floor and band, cloakroom etc.
The yurts are typically hire for 3 days but we set them up a few days before and take down a few days after so the yurt will be onsite for about 4 or 5 days in total. Depending on how many structures you have hired it can take 1 or 2 days for them to go up and normally a few hours to a day to take down again. This gives you plenty of time to decorate and some people even choose to have a gathering the night before or after with family.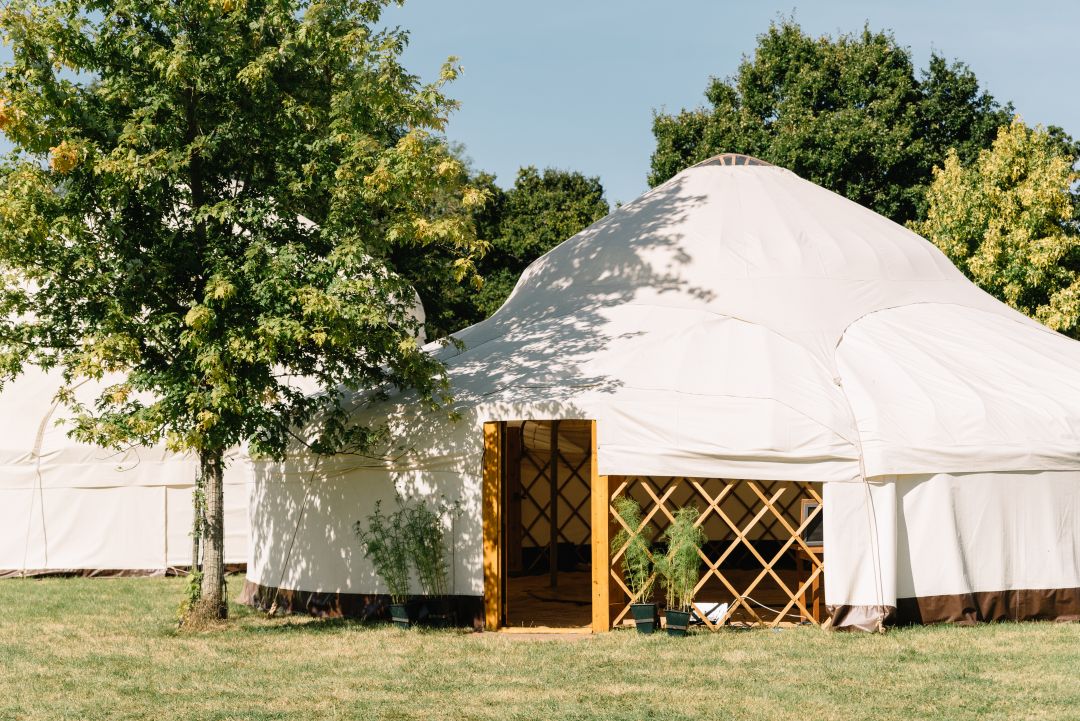 Practicalities
As with any outdoor wedding you will need to think about a few practical things. Power is normally sourced from a generator. You will need to check how much power you will need for the catering, lights, PA systems, and heaters – some heaters are run on their own fuel so won't need power. Power, lights, PA systems, microphones and heating can be hired directly through us. We would always recommend hiring a heater, even in the summer as once the sun goes down it can get chilly even on the warmest summer days. Our heaters are thermostatic so will keep the yurt at a steady temperature all night long.
You will also need to hire toilets, and think about water for caterers. And as with any English wedding, make sure you are prepared for mud and rain. See our blog on "what if it rains?"
Decor
Tables and chairs and lots of other accessories can be hired directly through us. Whether you are looking for round tables, having a more formal dining service, or fancy a banquet/buffet style look with trestle tables, we have options for everyone. You can talk through your table layout with one of our team and we can draw up plans for you to visualise the set up more easily.
The yurts are a natural beautiful backdrop that can be easily customised to be personal to you as a couple. The beauty is in its simplicity, and neutral colours mean that it will fit with any colour scheme. They are a blank canvas for creative people.
There are lots of places to hang things from and the beautiful cupola roof in the centre of the pavillion yurts is the perfect place to hang a chandelier or floral decoration. The wooden posts look fabulous when covered in fairy lights or floral arrangements.
Festoon walkways and coir matting paths help to guide guests where to go and also keep mud to a minimum, and also help create a space outside where guests may want to congregate, we have fire pits and chill out furniture available, which include sofas for lounging and barrels that look great used as tables.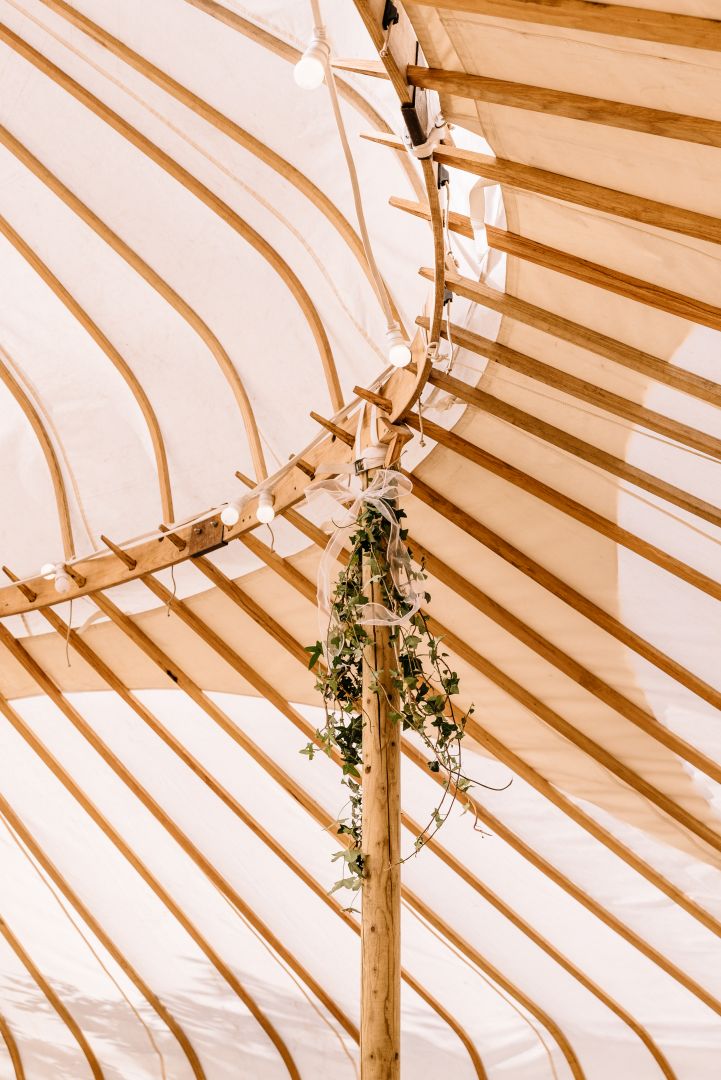 On The Day
If you wish to have your ceremony in the yurt you will need to get married legally beforehand. See the blog on "Having your ceremony in a yurt" This is a wonderful way to plan your own ceremony in whichever way you like and means you can choose a special person to perform the ceremony in a personal, intimate way.
Some people get married somewhere else and use the yurt as a reception venue only.
We provide an on site management service to help with things like guest control. Moving chairs etc, replacing toilet rolls -all the things you don't want to have to worry about on your special day.