Autumnal Wedding in a Yurt
Autumnal Wedding in a Yurt
With the last of the summer rays, you may think that symbolises the end of outdoor wedding season. But we disagree. Yurts are the perfect venue to host your autumnal wedding. With cosy log fires and thermostatic heater available to hire, you and your guests can enjoy the perfect day in amongst those beautiful Autumn colours. Think crunchy leaves, mulled apple cider, pumpkin soup, sparklers and fireworks.
With the nights drawing in, candles can be lit earlier, flickering and casting shadows across the beautiful curvature of the yurts wooden ceiling.
Indoor Ceremony
As with any ceremony in the yurt, you will need to think about getting married legally a few days before – see blog on "Having your ceremony in the yurt" – With any English wedding you can never guarantee the weather, however, during the Autumn it is likely to be colder than a summer wedding. Therefore a heated yurt is the perfect place to say your I do's in front of family and friends. Whether you want to have a traditional aisle or make the most of the circular structure in the pavillion yurts and have your guests surround you as you say your vows, your ceremony can be tailored specifically for you and your partner in the most intimate way.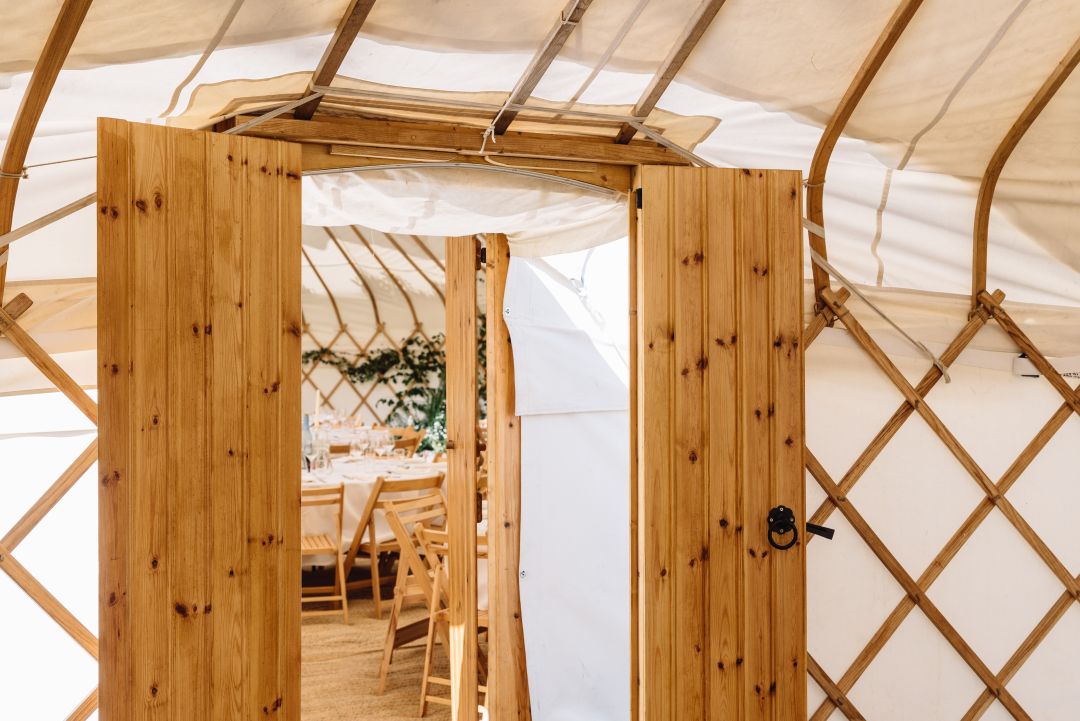 Decor
Having an outdoor wedding brings you closer to nature and the beautiful colours of Autumn are the perfect decor accessories. Pine cones, red and orange leaves, berries and apples all make great decor ideas. Lanterns, candles and fairy lights will transform the yurt into a magical cosy palace. Whether you are the creative type and want a DIY wedding, or would like some help with ideas, all items are available to hire directly from us and our decor team can advise and give you ideas on the perfect colour palettes and accessories..
Photos
Once you have chosen your perfect venue, make full use of the space and grounds. Check the weather beforehand – see blog what to do if it rains – and also check with your photographer when the "golden hour" will be – this is at the end of the day when the light for photographs is perfect. This may be earlier in the autumn so you may wish to plan your timings around this.
Wrap up
It might be worth thinking about getting yourself and your bridesmaids an extra layer for any photographs taken outside, these add an extra element to your style and can look wonderful in pictures  Your guests will also be arriving with extra layers so a cloakroom yurt can be the perfect entrance to create a warm welcoming feel, bringing guests in from the cold. All the yurts can be seamlessly connected in any formation you choose. Our team will help advise you on the best layout for your site and needs.
Seasonal Extras
Food in Autumn include apples, Blackberries, Rosehips, Sloes, pumpkins, mushrooms, hazelnuts, walnuts, popcorn, smores or marshmallows, toffee apples,
Drinks: mulled cider, hot soup, flavoured spirits eg. apple or blackberry, sloe gin, hot chocolate
Favours: Candles, sparklers, mini jams
Decor: Conkers, leaves, fairy lights and lanterns